Best Ad Networks for Publishers in 2023
Best Ad Networks for Publishers in 2023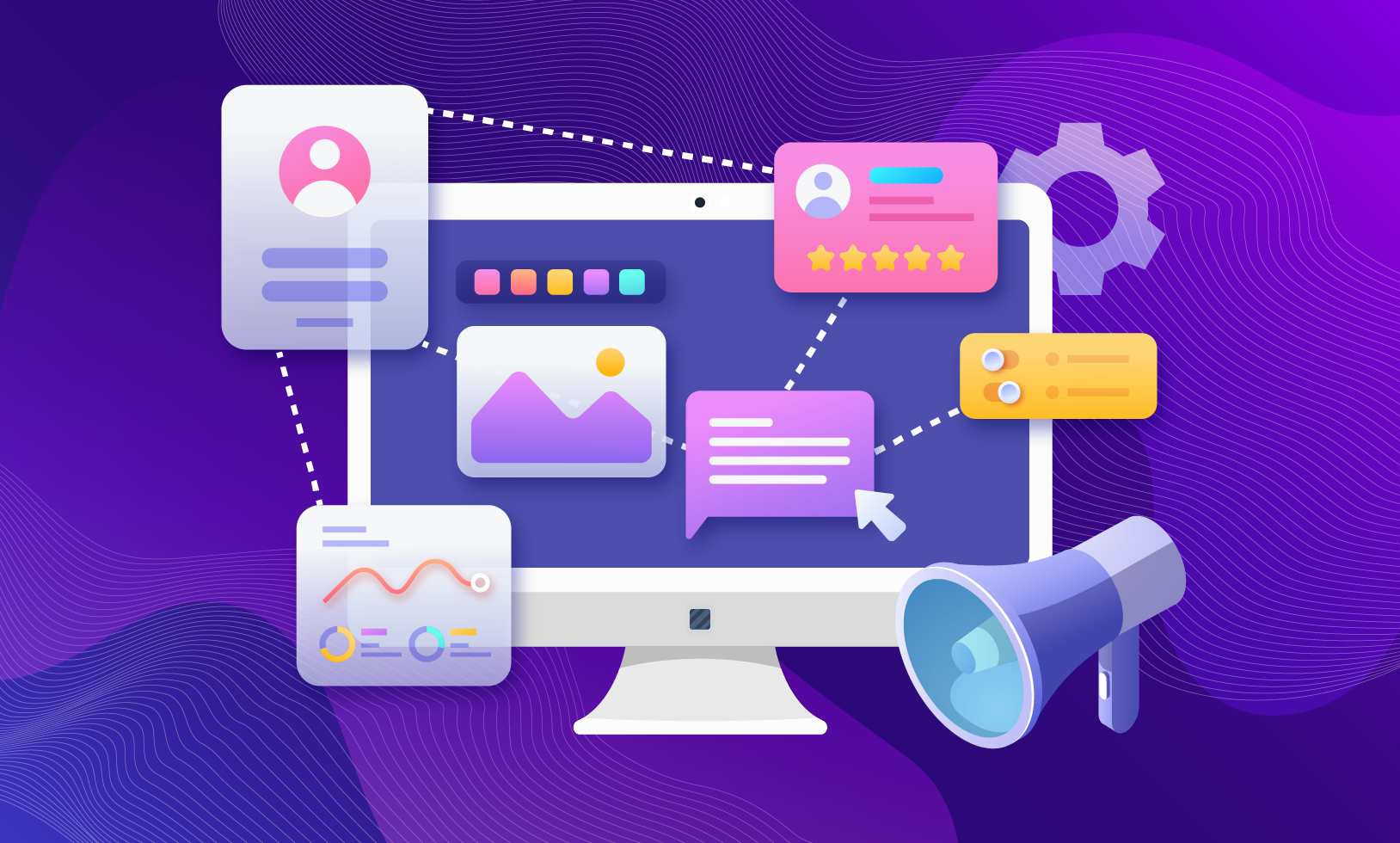 Summary
As a content creator or publisher, you know that monetizing your website is essential to sustaining and growing your business. There are many ad networks available, but it can be difficult to determine which one is the best fit for you. In this post, we'll break down the different types of ad networks and provide guidance on finding the best ad network for your site.
Finding the right ad network starts with understanding the different types of ads available and how they work. Let's take a look at display advertising, video advertising, and native/content recommendation ad networks.
Best Display Advertising Networks

Display ads are types of advertisements that appear on webpages in order to attract attention from visitors. These ads come in various sizes, including banner ads, graphics, videos, etc. Publishers earn money by showing those ads to their audience. There are several payment models for advertising but the most common are: Cost Per Impression (CPM) and Cost Per Click (CPC). In CPM, they get paid a fixed amount per 1,000 impressions while with the CPC model they get paid per click, or those models can be mixed by the advertising network showing both metrics at once.
Here are some of the best display advertising networks to consider:
Clickio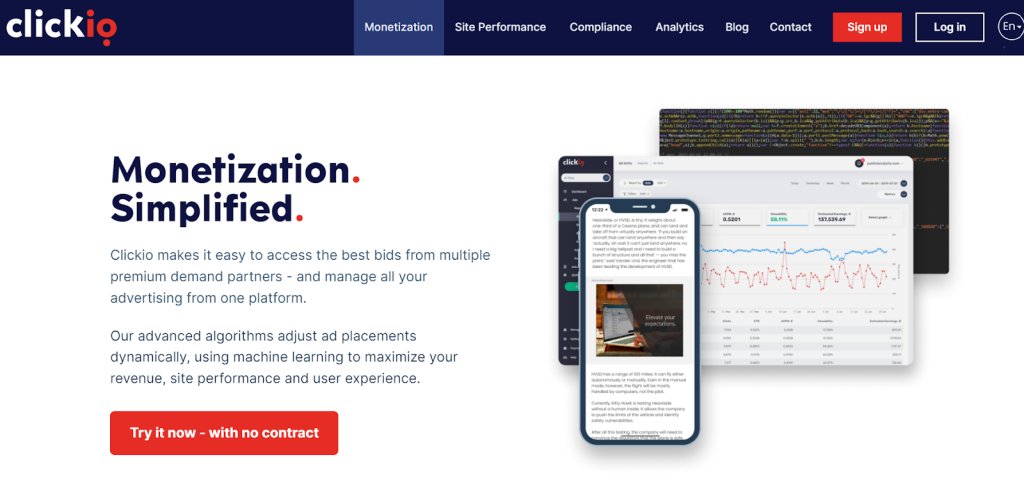 A Google Certified Publishing Partner, Clickio is recognised for its expertise in helping publishers to grow their advertising revenue. Its AI-powered technology allows website owners to access multiple premium demand partners in one platform, and uses advanced data insights and continuous A/B testing to maximize earnings. Clickio offers a wide range of ad formats, including sticky ads and interstitials, and uses smart ad refresh to make the most of your ad inventory. In contrast to some other popular networks, Clickio also provides tailored support from a dedicated account manager to help publishers find the most profitable ad setup for their site.
Google AdSense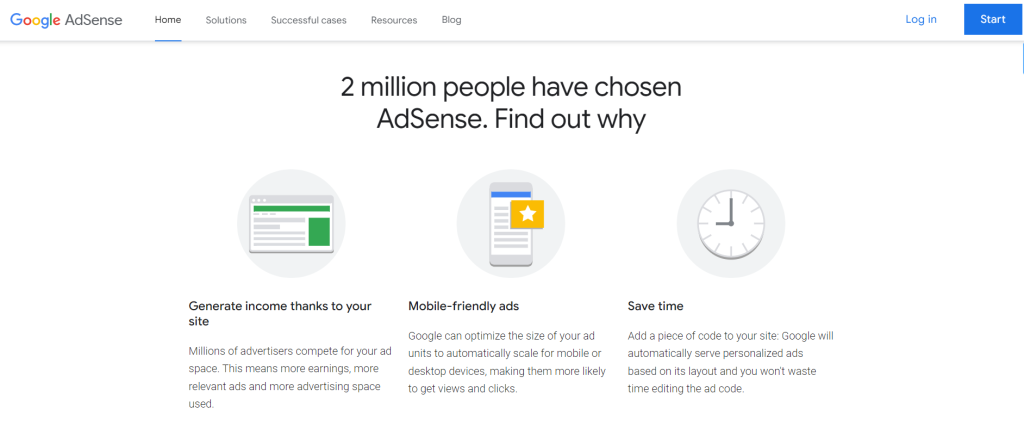 The most popular option for publishers who are starting their blogging journey or for those who seek a simple, automated but qualitative solution is Google AdSense.
Google AdSense allows publishers to generate revenue from their digital content. It does this by displaying ads that are relevant to a website's content and audience. These ads are created and funded by advertisers seeking to promote their products. The amount earned by the publisher varies as advertisers pay different prices for different ads.
Google Ad Exchange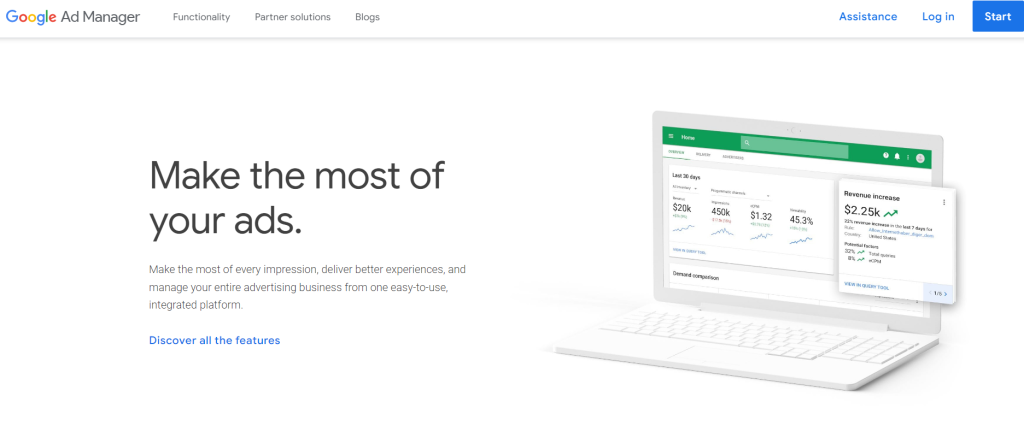 Google Ad Exchange (AdX) originated from DoubleClick Ad Exchange, a company founded in 1996 in Ireland that operated as an ad server (now called Ad Manager).
With Google AdX, publishers can sell their advertising inventory through real-time bidding technology to advertisers and agencies. AdX creates an open marketplace where prices are determined in real-time auctions, making it easier and more efficient to allocate display ads and ad space across the web.
Google AdX is ideal for publishers who are looking for a more complex setup. Both sellers and buyers benefit from AdX. Sellers can maximize their earnings and reach more advertisers while retaining control over which advertisements appear on their site. Buyers have access to more websites and ad space and can better control where their ads are shown.
Google Ad Exchange works similarly to AdSense but offers more control over who sees your ads and what type of ads are shown on your site. With this platform, you have access to detailed analytics about the performance of each campaign so that you can make informed decisions about where to invest your advertising budget.
Best Video Advertising Networks

Video advertising has become a popular way for advertisers to connect with their target audience. The growing use of video platforms like YouTube, TikTok and Instagram has made video advertising a well-established channel. In 2022, video marketing revenue reached almost $30 billion and is predicted to continue growing, with most of the spending happening on mobile devices (58%) compared to desktop (42%).
For publishers, common video ad formats include Outstream, In-stream (Skippable and Non-Skippable), and Pre-rolls. Here are a couple of video ad networks to consider:
Primis

Primis is a video advertising solution that delivers impactful video ads to users. It optimizes ad locations and timing to improve revenue and user experience. With Primis, you can customize the native ad unit to fit your website. Their video discovery engine leverages contextual targeting, AI and audience targeting to deliver the most relevant video ads to each user. With Primis, you can offer users a preferred ad format and boost ad revenues.
Teads TV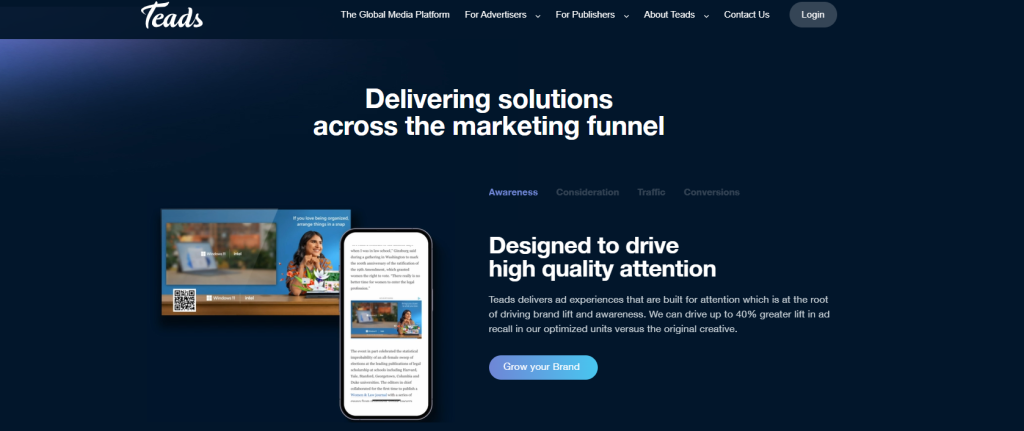 The Teads TV video ad network offers a range of custom video ads that deliver innovative and interactive ad experiences to users. They use ad technology and artificial intelligence to ensure maximum revenue for publishers and safe ad experiences for their brands. Their SSP helps with yield management, unified auctions, quality safeguards, and centralized reporting. They provide a range of InRead video ad formats to offer a pleasant viewing experience for users.
Best Native Advertising Networks

Native advertising is a good option for digital publishers to earn more revenue. Native ads are placed on a site in a way that matches the style of the content, making them blend in seamlessly. These ads are less intrusive, resulting in a better user experience, and higher click-through rates. Native ad networks also offer content recommendation-based ads, which can help keep audiences engaged. By using native ads, publishers can increase their revenue without sacrificing the look and feel of their site. Additionally, some native ad networks offer content syndication and optimization services, which can help reach new audiences and improve search engine rankings.
Taboola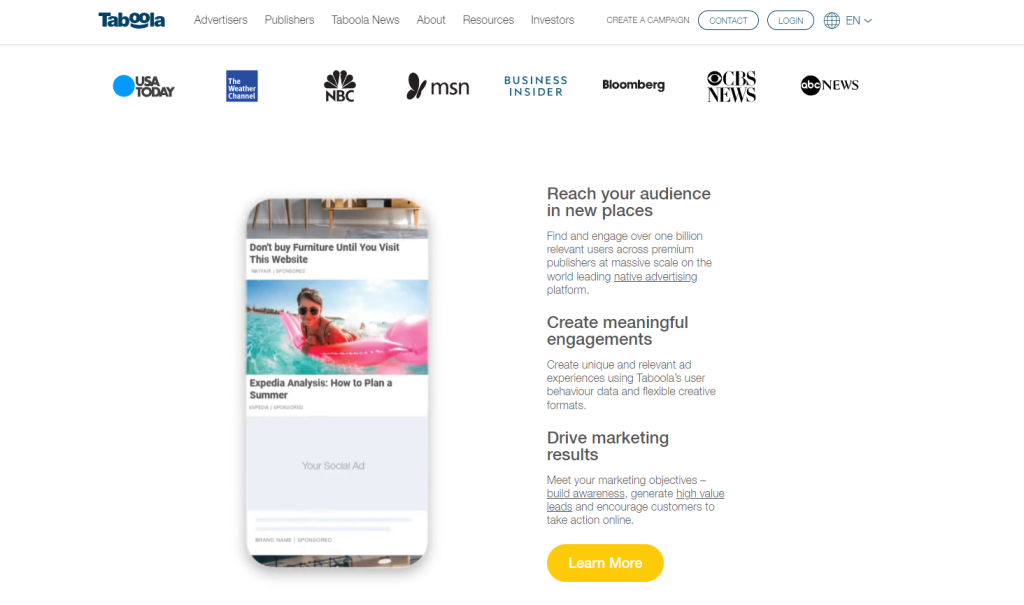 Taboola is a leading native advertising platform that caters to over a billion users across its partnered publications. The typical Taboola native ad appears as a set of content recommendations and can also include in-feed video sponsorships. Taboola enforces a strict quality control policy for ads to protect the publisher's reputation. The platform offers a suite of tools for tailoring the user experience and boosting CTRs, including actionable user data, editorial insights and A/B testing. Taboola payments are made monthly through the Payoneer service, and the revenue portion taken by Taboola is agreed upon. Taboola is widely used by some of the biggest publishers in the world, making it a trusted and effective solution for monetizing content.
Some of the best native advertising networks include:
Outbrain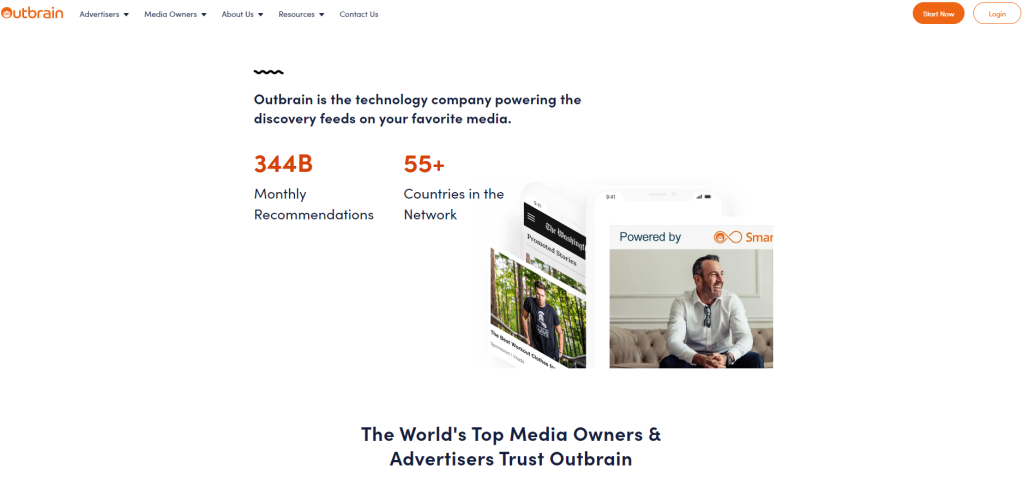 Outbrain generates over 340 billion content recommendations annually and is used by major media publications. It differentiates itself from other native advertising platforms with its integration of AI and machine learning capabilities, which personalize content recommendations to each user based on their individual interests, increasing potential CTRs by 25%. The Smartlogic AI controls various aspects of the content recommendations, including their format and size, for an optimal user experience. Publisher payments are made on either a 60 or 90-day schedule, with a minimum of $50, and the amount of revenue received from advertising is determined through agreement.
Dianomi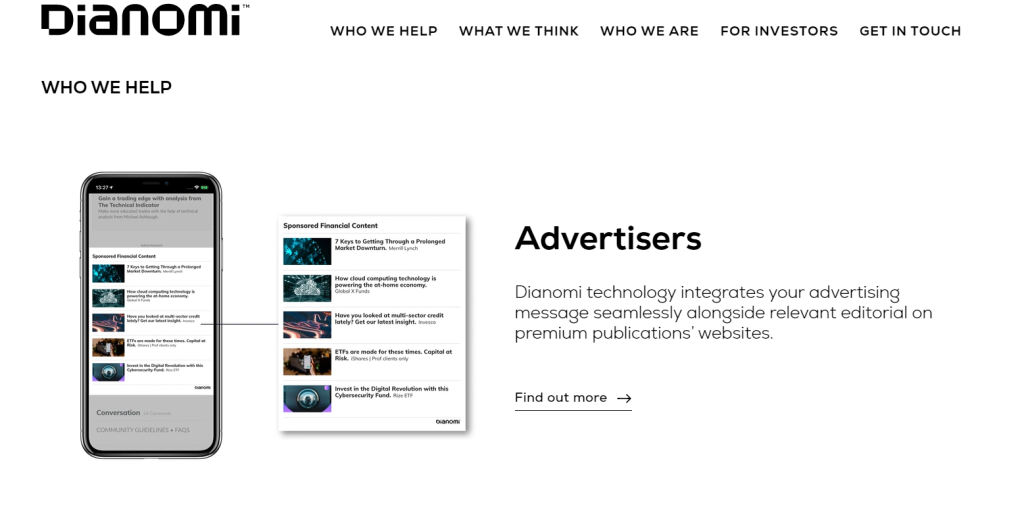 Dianomi is a native ad network that targets premium audiences with an average income over $100,000. It reaches 515 million users globally and partners with business-oriented publications such as Forbes, Bloomberg and Reuters. It monetizes 100% of a publisher's inventory and offers six different types of native ads including video, in-article, in-feed, center page, below-article, and right rail ads. Publishers can arrange the ads as they like to maintain consistency in quality.
How can publishers choose the best ad network for their site?
Selecting the right ad network for your website requires a comprehensive approach, taking into account various factors such as the type of ads (display, video, or native), cost per click rate (CPC), target audience demographics, and so on. These elements all play a role in determining which platform is best suited to your business needs. To maximize revenue potential and ensure good return on investment (ROI), it's crucial to find the right ad network that drives more engagement from visitors. This means understanding which types of ads will perform best and generate the most conversions, clicks, and impressions.
However, finding the right ad network can be complex. It may involve using several different networks and testing a variety of different ad formats, which can be time-consuming and difficult for publishers with limited resources and technical knowledge.
How can Clickio help you find the best ad network?
Clickio connects publishers to multiple premium demand partners in one platform, and uses advanced, AI-powered technology to maximize your revenue. We offer a wide range of display, video and native ad formats, and a dedicated account manager will work with you to find the best ad networks and formats for your website.
You can register with Clickio here, or contact us to find out more.
(Visited 730 times, 1 visits today)