Clickio launches real-user monitoring of Core Web Vitals
Clickio launches real-user monitoring of Core Web Vitals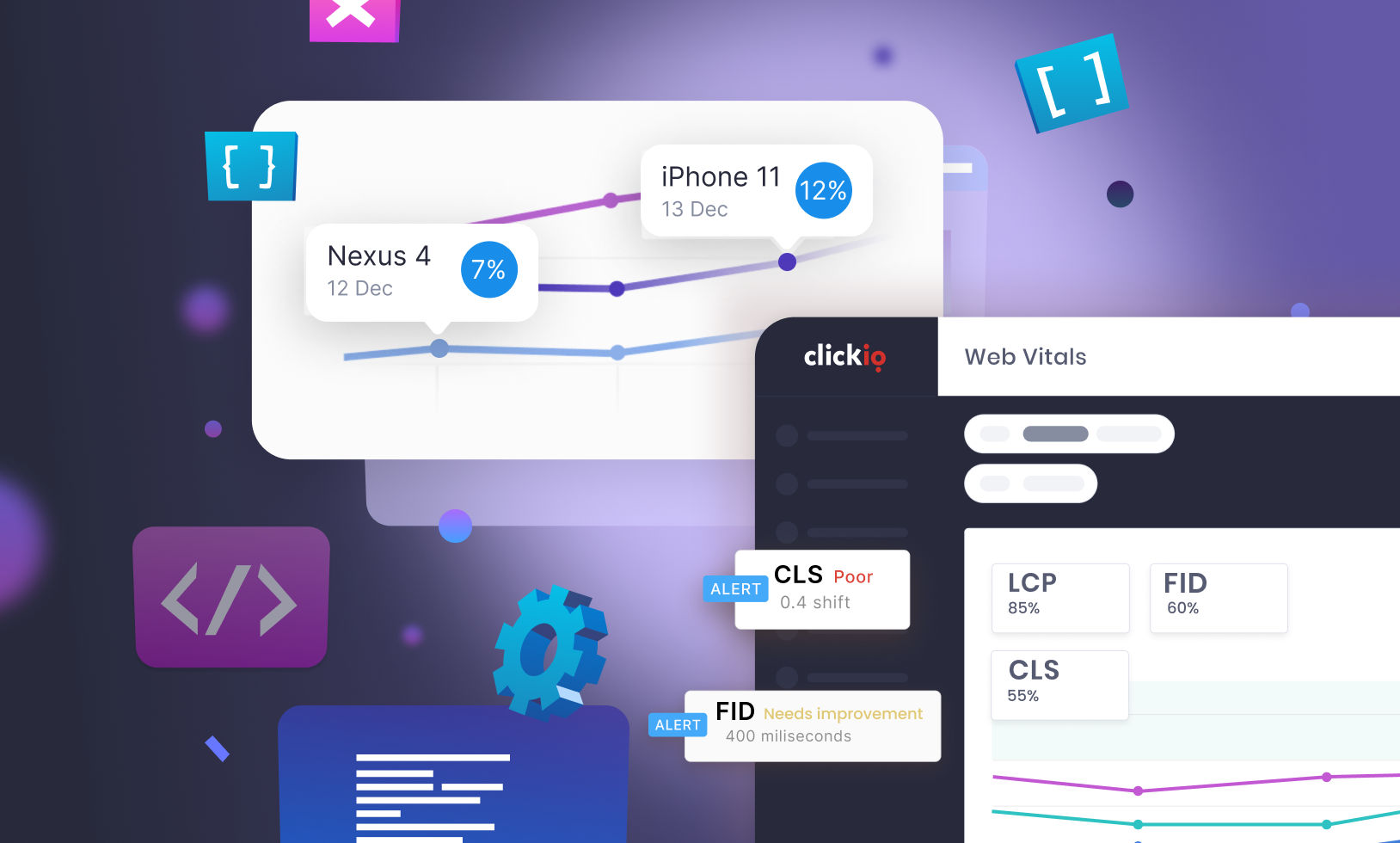 Clickio Web Vitals Monitoring is now available to all current publishers and new subscribers – allowing you to track your Core Web Vitals scores in real time for free.
Summary

Why measure Core Web Vitals?
Core Web Vitals measure the real-world experience of website visitors and are now a key factor in Google's search rankings. Currently only affecting mobile traffic, they will also begin to impact rankings for desktop traffic from February 2022 – so it's more important than ever that publishers remain compliant.
What's more, since Core Web Vitals are designed to measure user experience, low scores could indicate issues with your site that are decreasing user engagement, pageviews or time-on-site – and ultimately, these could be affecting your revenue.
Why use Clickio Web Vitals Monitoring?
Unlike some other tools, such as Google's Page Speed Insights, Clickio Web Vitals Monitoring is based on real-time, real-user data – so you can see how your site is performing now and quickly identify any issues that need resolving.
Clickio Web Vitals Monitoring shows you at a glance whether your site is compliant with each of the three Core Web Vitals (LCP, FID and CLS) and lets you track your scores for each over time.

The new service allows you to drill down into your data, filtering by variables such as page, device type and browser to identify any specific issues. And it has the option to set up custom alerts, so you receive an email notification whenever your site becomes non-compliant or your vitals drop by a certain amount.
How much does it cost?
The basic version of Clickio Web Vitals Monitoring is available free of charge to all current Clickio publishers and new subscribers. This includes real-time tracking and reporting of all three vitals at a site level.
For more reporting options and features, we have a range of additional product plans available via a monthly subscription. You can find full details here.
How can I activate Clickio Web Vitals Monitoring?
If you're not already registered with Clickio, please sign up here and follow the instructions. You'll just need to add a single tag to your site to start tracking your vitals.
For existing Clickio publishers, the free version of Web Vitals Monitoring is already enabled in the platform. Just go to the new Web Vitals Monitoring tab to choose your options. You can also upgrade your plan within the Billing section of the platform.
You can find further instructions and information in the Clickio Knowledge Base or contact support@clickio.com if you have any questions.

(Visited 84 times, 1 visits today)