What are sticky ads - and should publishers use them?
What are sticky ads – and should publishers use them?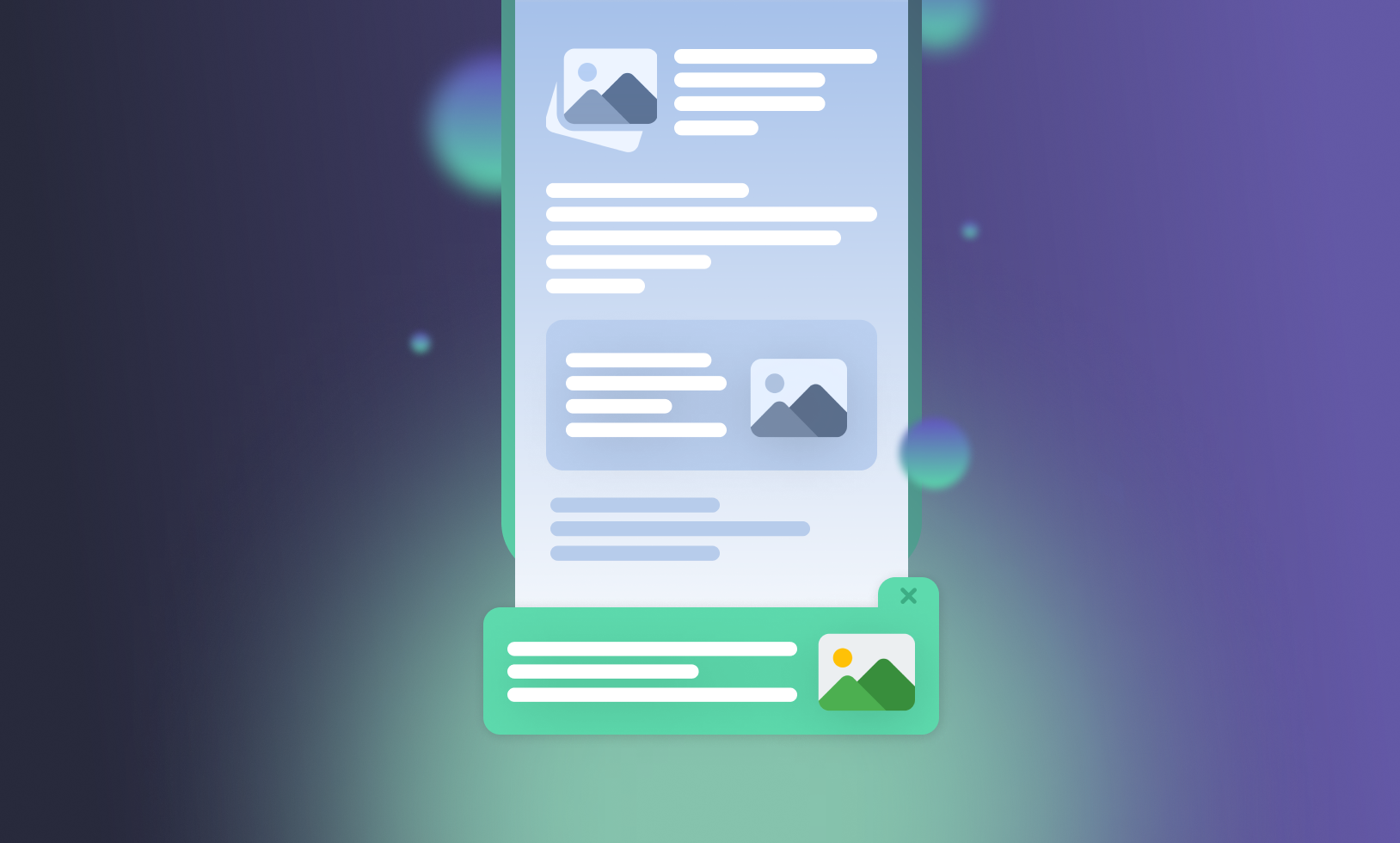 Sticky ads can significantly increase the views and clicks of your ads by remaining in place as a user scrolls down. Here we explain what sticky ads are and how publishers can best use them to increase revenue.
Summary
What are sticky ads?
No doubt you have seen ads on the internet that load when you open a page and remain in the same place when you scroll down. Such ads are attached to different parts of the page and have different sizes. These are so-called "sticky ads". Using them effectively on mobile and desktop devices can significantly increase the number of views and clicks your ads get. To better understand how to properly use sticky ads, let's have a look at the different types.
What are the different types of sticky ads?
Horizontal sticky
Placed at the very bottom of the screen (or sometimes at the top), a horizontal sticky stays there while the user views the page. Horizontal ads are suitable for most sites and are found on all devices. Ideally, the ad should have a so-called "non-clickable area" around it to avoid accidental clicks, but to allow it to be closed on purpose.
Vertical sticky
In this case, advertising is placed on the side of the page, at the bottom of the sidebar, and remains on the screen when the panel content is scrolled completely. Vertical ads are only suitable for desktop devices and tablets. Use on mobile devices is impractical due to the orientation of the display, in which case such advertising blocks a significant part of the workspace.
Multi-sticky
This ad type, available on desktop, works similarly to the vertical ad type, but uses multiple ads that rotate as you scroll down the page. Multi-ads are among the most profitable ones: multi-stage ads get more views, but they always use the same area on the page to display them. In addition, an unobtrusively changing page element attracts attention, acting as a guaranteed protection against user "banner blindness".
Mirror sticky
Mirror sticky ads are placed on both sides of the page, outside of its main content. Just like vertical and multi-stickies, they are not used on mobile devices. Usually mirrored ads have the same shape, which creates additional symmetry on the page, which also makes it visually more harmonious.
When should you use sticky ads?
Among the advantages of this type of advertising are increased views (as the ad remains on the page until the user views the page or deliberately closes the ad), and improved user experience, due to the unobtrusiveness of the ads themselves. A/B tests allow us to optimize their effectiveness and identify the most efficient ways to display content. As a rule, advertisers are more willing to pay for this particular ad format than for simple banners that may be perceived by the user as white noise.
When might fixed ad positions work better?
When it comes to advertising, you should never forget about performance and easy access to content. If your site is already relatively slow, you should not overload it with unnecessary elements that create additional load on the pages. In that case, it is better to limit yourself to a traditional banner until the necessary optimization has been carried out. If you decide to ignore site performance in favour of adding sticky ads, be prepared for the fact that the overall site traffic is likely to suffer (as Google may lower its position in search results), and as a result, "sticky" ads will receive even fewer views than banner ads.
Get help optimizing your sticky and fixed ads
Clickio offers all of the above ad types on our advanced publisher platform. Using machine learning and continuous testing, we can help you get the most from the ad placements on your site, to increase your revenues without damaging user experience. Contact us to find out more.
(Visited 296 times, 1 visits today)