Why Core Web Vitals will become more important for publishers in 2022
Why Core Web Vitals will become more important for publishers in 2022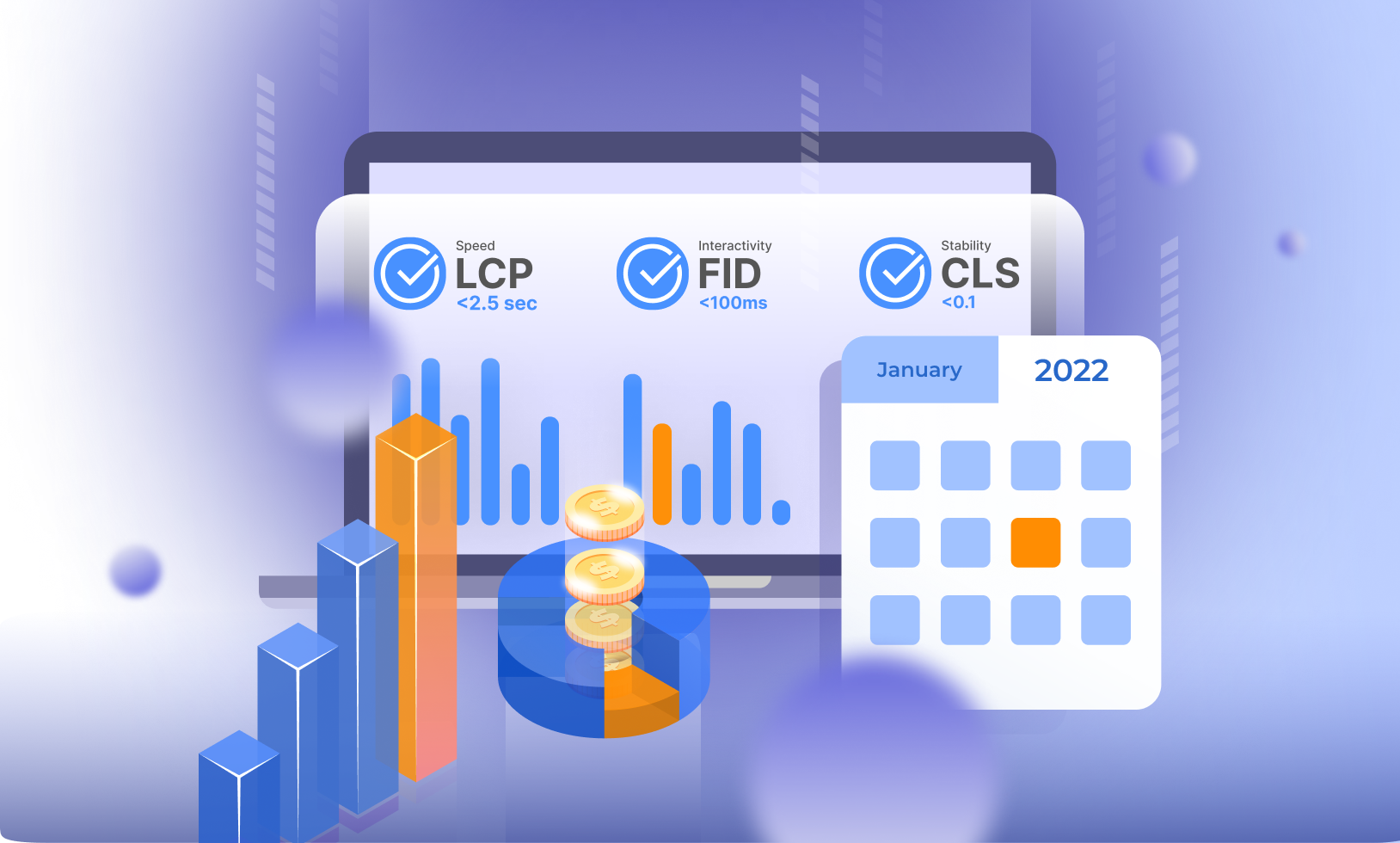 Core Web Vitals (CWVs) are already having an impact on search rankings, and are set to gain even more importance in 2022. In this article, we look at why that is, and what publishers can do about it.
Summary
What are Core Web Vitals?
As explained in a previous blog post, Google introduced a new set of measures named "Web Vitals" in May 2020. These metrics are intended to assist web developers and website owners in optimizing their sites to provide a good user experience.
The current set of Core Web Vitals consists of three metrics: Largest Contentful Paint (LCP), First Input Delay (FID) and Cumulative Layout Shift (CLS), with each of them focusing on a specific aspect of the user experience.
Largest Contentful Paint (LCP) measures loading performance – in other words, how fast your site appears on the screen
Cumulative Layout Shift (CLS) quantifies visual stability – essentially the amount of unexpected or how much your content moves
First Input Delay (FID) considers interactivity – or how long it takes for the site to respond after a user interacts with it (e.g. by clicking on a link)
Four reasons publishers will need to pay more attention to Core Web Vitals in 2022

1. Google is introducing Core Web Vitals gradually
Google first announced the introduction of Core Web Vitals in May 2020 yet it didn't start actually using them as a search ranking factor until over a year later, with a gradual rollout between June and August 2021. Unlike some of its search updates, Google is clearly taking this one slowly and many of the eventual impacts on search rankings may not be fully felt yet.
2. Core Web Vitals metrics may change
Google has indicated that Core Web Vitals metrics may evolve over time and stated that it will "incorporate more page experience signals on a yearly basis". Its aim is "to both further align with evolving user expectations and increase the aspects of user experience that we can measure." So even if your site is doing well on the current measures, it's a good idea to keep on top of user experience and be ready for any changes that might come.
3. Core Web Vitals will affect desktop traffic from February 2022
In fact, one significant change has already been confirmed. Up until now, Core Web Vitals have only been used as a ranking factor for mobile traffic, but in November Google announced that it will begin incorporating page experience measures into its desktop rankings from February 2022.
Other desktop page experience indicators will stay unchanged, such as HTTPS security and the absence of invasive banner ads. Although the mobile-friendliness signal will continue to be used in mobile rankings, it will have no effect on desktop.
This update is due to be completed by March and it's unclear what impact it will have. However, it now means that even those without a large percentage of mobile traffic will need to take an interest, and it can only add to the importance for publishers of monitoring Core Web Vitals.
4. Your competitors are taking action
Many publishers were slow to start optimizing their Core Web Vitals but an increasingly large percentage are now taking action.
Data from Google's monthly user experience report shows that between May and October 2021, overall compliance with CWVs across all websites globally increased 58%. As of October:
44% of sites were compliant with LCP
91% complied with FID
71% met the requirements for CLS
Ultimately if your business hasn't paid much attention to these metrics yet, it could suffer the price for inaction as you start to slip below your competitors in Google search rankings.
How to keep on top of your Core Web Vitals
First of all, you can do a quick check of your vitals for free here.
Even if your scores are good, it's important to keep checking them over time. Clickio Web Vitals Monitoring tracks your scores in real-time, based on real-user interactions so you can optimize your site accordingly.
The basic version is available free of charge. If you're already a Clickio publisher, just go to the Web Vitals Monitoring section on the platform to get set up.
If you haven't already registered with Clickio, you can do so for free here.

(Visited 165 times, 1 visits today)