Why does ad revenue drop in July - and what can publishers do about it?
Why does ad revenue drop in July – and what can publishers do about it?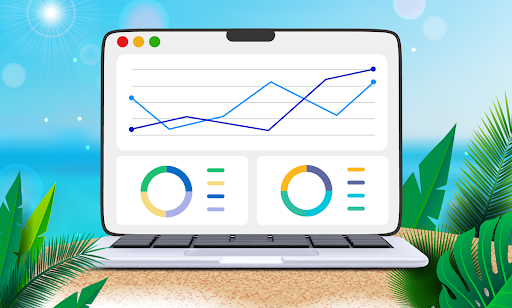 Many publishers experience a drop in advertising revenues around July. In this article, we look at how publishers can reduce the negative impact of seasonal fluctuations on their ad revenue.
Summary
Why ad revenue drops in July
As a publisher, your ad revenue will be affected both by the amount of traffic you receive to your site, as well as the eCPMs for your ad inventory. Both of these are likely to be higher at specific times of the year. In fact, Google identifies three main categories of "seasonal events" that can affect ad revenues:
Cultural (Examples: Easter, Thanksgiving, Christmas, Lunar New Year)
Commercial (Examples: Black Friday, Mothers Day, Amazon Prime Day)
Ad hoc (Examples: Sporting tournaments, elections)
There tend to be relatively few significant seasonal events in July and in fact, it coincides with the summer holiday season in much of the northern hemisphere. With lots of consumers away on vacation, traffic to many sites will drop and advertisers are less interested in spending at this time, so eCPMs will also fall.
Moreover, for many advertising agencies, June is the end of their fiscal year so unused budgets are likely to be used up by the end of that month. In contrast, spending in July is likely to be lower as agencies and advertisers begin testing new campaigns and approaches, which they will ramp up towards the end of the quarter or in the busy Q4 period.
How to minimize revenue loss in July
As we've seen, a fall in revenue in July is often down to seasonal factors, which publishers have little control over, and earnings should naturally improve towards the end of the quarter.
However, there are steps publishers can take to improve their advertising setup and maximize revenue, which may help to counteract the impact of any seasonal fluctuations. Here are a few suggestions:
Connect to multiple demand sources – Rather than just relying on one advertising network such as Google AdSense, try connecting to other premium demand sources via header bidding. This could help you increase eCPMs and earn more from your ad placements. Just be careful not to put quantity before quality, otherwise you could negatively impact both the performance of the site and the visitor's impression of it.
Optimize your site. Calm months are usually the best times to introduce technical changes, both small and large. Perhaps you have been putting them off for a long time? Now is the time to get to work! Even if something goes wrong, due to reduced user traffic, possible overlaps are unlikely to be as critical as they are during a busy time of the year. Perhaps you have a question: how is technical work going to help me now? The answer is: it will bear fruit later, when the summer is over. In winter, an optimized site brings in more revenue than the same one, but not optimized. This, in turn, will make it possible for you to compensate for a part of the lost summer profits.
Pay attention to ad viewability. Maybe the ads are displayed as they should, and the impression statistics are being tracked as intended, but there are no transitions due to the fact that the ad unit is simply lost in a vast amount of content. Think once again about the best spots to place ad units, work on the layout if necessary.
Try new ad formats – There are several options such as mobile stickies, in-content ads or smart ad refresh that we've found can work very well to increase viewability and revenue for publishers.
Improve user experience – Providing a better experience for visitors will encourage visitors to spend longer on your site, viewing more ads, and make it more likely they'll return. So make sure your site is loading quickly, ads are not intrusive and it's easy for readers to navigate to the content they're interested in. Providing a better user experience can also improve your Core Web Vitals, potentially boosting your search rankings and traffic.
Need help?
Clickio's AI-powered platform makes it easy to connect with multiple premium demand partners, and automatically optimize ad settings. That's why our publishers typically see an increase in earnings of 38%.
Contact us to see how we can help you maximize your advertising revenue.
(Visited 403 times, 1 visits today)